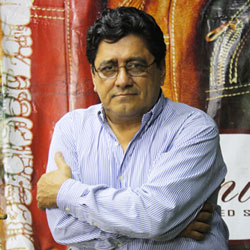 In 1974 Danilo Martinez founded a small leather company in San Pedro Sula, Honduras. With a few hand tools, a work bench, scraps of leather, and a profound vision he was able to change the Central American leather industry forever. Although his company thrived in the poverty of its surrounding communities, he refused to be satisfied with his success. More than anything, he wanted to help people. He wanted to give back to his community and he wanted to create a positive atmosphere where those around him could be successful.
This desire to do more led Mr. Martinez to devote a large portion of his time towards community outreach. Often times he would visit poverty stricken areas and offer food or even a chance to learn a trade in his factory. At the root of his efforts, Danilo Martinez always stressed his strong
belief in God. He sought to teach people that no matter what their economic condition, there was a compassionate God that cared for them and that died on the cross for them. He felt that you need to do more than just give someone a handout, instead you should teach them of their own personal value and how that value can be used to glorify God. He believed simply, in giving people hope.
His efforts as a humanitarian and Christian served as the driving force behind the formation of the Danilo's Cares non-profit initiative in 2012. This effort seeks to make an impact on the Honduran community through a variety of programs. It stresses the importance of positive attributes and is specifically designed to help Honduran children. What started with a few hand tools and scraps of leather has grown into something that will help positively shape Honduran youth for years
"Loving your neighbor as thyself is at the very heart of Danilo's Cares. This is just the beginning"

– Danilo Martinez
The Danilo's Cares initiative seeks to make a positive impact on underprivileged Honduran youth through a variety of comprehensive humanitarian projects. Our organization takes a multifaceted approach focused on community development. These efforts include: Christmas gift packages, dental hygiene clinics, literacy programs, environmental outreach, and whatever else it may require to improve the quality of life for Honduran posterity.
This effort also emphasizes the importance of eternal values. We believe in teaching children about integrity, honesty, and hard work. If you give a child a toy and send them on their way you have only reached them for a brief moment. But if you teach a child values that will help them become productive human beings then you will have reached them for the remainder of their lives. That is always at the core of what we do at Danilo's Cares.
Danilo's Cares facilitates a dental health program in Honduras to provide access to vital dental care to underprivileged school
children. Our organization has partnered with Central American Medical Outreach (CAMO) to help achieve this tremendous goal
The goal of this mentorship program is to help these children to understand they have a value
and a purpose in life and Danilo's Cares will do whatever we can to help facilitate their growth as a productive individual in the world community.
Before the start of each school year our staff organizes an initiative to distribute backpacks full of essential school supplies to needy school children in Honduras.
Christmas Giftbox Program
Each Christmas our organization gathers
boxes full of toys, pens, notepads, personal grooming kits, and other small items to distribute to poor children in Honduras.